Top US Brokerage to pilot reputation management tools and agent feedback application.
San Francisco, CA (PRWEB)
August 2, 2007 — Agent Scoreboard, the provider of comprehensive customer feedback systems to the real estate industry, today announced that it has entered into an agreement to pilot the Agent Scoreboard reputation management suite with Prudential California Realty, a HomeServices of America, Inc. company.
A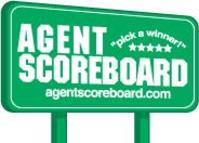 s part of the agreement, Agent Scoreboard will provide Prudential California Realty with Brand Guard, a client feedback reporting system that will allow the company to collect and view client feedback across the entire organization in real-time. Prudential California Realty management and their agents will be able to closely monitor individual customers' service experiences and measure how each transaction effects the company's reputation.
"Prudential California Realty is completely committed to excellence in customer service," said Jack Willey, Chief Technology Officer. "We believe that Agent Scoreboard's products will give our company and our agents, unprecedented insight into our client's experiences with Prudential California Realty, which allows us to deliver our services at a consistently higher level," said Willey.
"Online customer feedback, much of it anonymous, is a fact of life in this always connected Web 2.0 world" said Michael Agee, President of Agent Scoreboard, "Prudential California Realty has chosen to proactively address the issue; Agent Scoreboard tools empowers
Prudential California Realty to gather, manage and leverage its customer feedback to promote its brand and its agents' reputations more effectively," said Agee.
About Agent Scoreboard:
Agent Scoreboard enables consumers to find and connect with great real estate professionals. Agent Scoreboard's feedback system is totally unique: Agents are scored on
the quality, frequency and credibility of their participation in their local market and on the Agent Scoreboard platform. Like the statistics on the back of a baseball card, an agent's individual scores reflect the different elements of an agent's reputation and skill. You can find out more about Agent Scoreboard at www.agentscoreboard.com.
About Prudential California Realty:
Prudential California Realty is a subsidiary of HomeServices of America, a Berkshire Hathaway affiliate. Prudential California Realty has approximately 4,600 sales associates and 82 offices in San Diego, Orange, Los Angeles, Ventura, Santa Barbara, San Luis Obispo and Riverside counties. Visit Prudential California Realty's website at: www.prudentialcal.com.